Speaker Details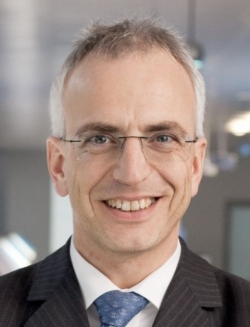 Eberhard Klotz
Eberhard first studied communications engineering in Karlsruhe and later completed further studies for the European Executive MBA at Henley Management College and the University of West London. His professional career led him via Mannesmann-Kienzle, Siemens and Bosch to Festo (since 1990). Throughout all these years, industrial communication has been part of his tasks. Eberhard is responsible for customer inquiries about Industry 4.0 worldwide, realizing projects and strategy workshops, and is a much sought-after speaker at conferences of all kinds. Since 2019, he has been representing this topic worldwide as global sales director, Industry 4.0 and digitalization.
---
Presentation
Predictive quality and predictive maintenance in tire production
In tire production, maintaining consistent quality in the mixing mill is very important to prevent problems further down the process. Guaranteeing a reliable operation, especially in tire building and curing, is also key in this industry. A software solution using technology based on artificial intelligence, such as machine learning, can interpret the data generated in the different processes and detect anomalies, advising you at an early stage of possible quality issues or machine failures. It can be flexibly integrated into the customer's system, either on-premises, on edge, or in the cloud.