Live news from the show!
Day 2: Color Service shows extensive small chemicals weighing system for material conveying
Color Service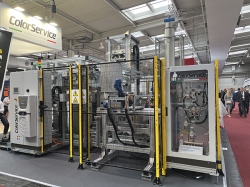 Color Service has a full-size demonstrator of its small chemicals weighing system on its booth at Tire Technology Expo.

Designed to carry out the dosing of all the required materials for tire production, Color Service's weighing system benefits from being modular, so the machine can expand to keep up with the requirements of growing manufacturing facilities.

The machine forms bags automatically from a tubular film of EVA every 35 seconds, adding an identification label to each, consisting of a barcode, label and description. These bags are then automatically inserted into the holder containers before being moved into the dosing area. The automated machine then moves the containers under all of the dispensing heads. At the end of this process, the bags are removed from the container, internal air is extracted and the bags are heat sealed. They are then delivered on a motorized belt ready for the mixer.

Due to its high dosing speed, the system can increase productivity while providing traceability at every stage of the production cycle.

To learn more about Color Service's technologies, visit Booth 8034.