Speaker Details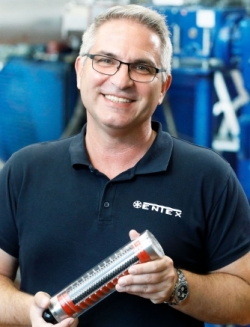 Frank Fuchs
Frank Fuchs is the Head of Sales at ENTEX where he is responsible to promote the advancements of the related design evolution of the planetary roller extruder. Before working in sales, Frank Fuchs has graduated as Dipl.-Ing. mechanical engineering with subject polymer processing from IKV at RWTH Aachen. With his engagement in the plastics industry and now ENTEX he has more than 20 years' experience in the fields of polymer research, polymer processing and quality control. Apparently, the ENTEX Planetary Roller Extruder convinced him, so here we are today.
---
Presentation
Rubber recycling - devulcanisation process on the planetary roller extruder
Huge quantities of rubber waste – e.g. hundreds of millions of used tyres annually – need recycling processes that will take them beyond a secondary use in riding stables, as gym mats or as an admixture in building materials. Processes are needed that break the sulphur bridges and preserve the carbon bonds and thus lead to recycled materials that can be reused as raw materials to produce e.g. new car tyres and rubber mouldings.